Nashua, NH (February 4, 2019)—MarketReach, Inc., a leading provider of award-winning creative services for technology companies, has moved from its previous Nashua location to the city's Amherst Street commercial district. The move follows a highly successful 2018—one of the best years in the company's history.
Over 25 years of B2B marketing experience
"We continue to build on the foundation of our 25 years of experience," said President Greg Hooven, "expanding the breadth of services our in-house team provides. Our new facility includes additional conference and breakout rooms, space for our growing video and interactive capabilities, and room to build for the future."
One of the nation's top creative production shops serving technology marketers, MarketReach offers design, writing, video, web-development, and events-management services. Its steady growth has led to several moves over the years—with this relocation to 410 Amherst St. allowing for the eventual addition of a photo and video studio.


The new space also accommodates 30+ employees—with potential for up to 20 more—and has room for a larger web and interactive technology development center. The office is mobile-friendly, with plenty of natural light and a variety of nearby hotels and restaurants. The Nashua location also strengthens MarketReach's ability to recruit talent northward from Massachusetts.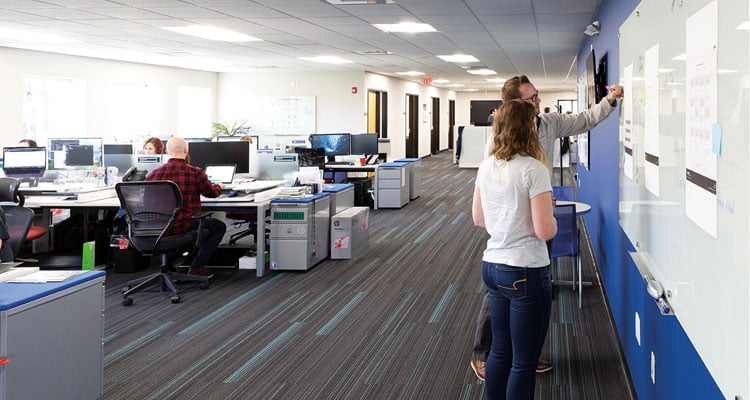 "Our clients juggle complex products and partnerships, constant change, high pressure, and high visibility. Our new space will only increase our ability to reduce their stress and deliver the creative marketing they need, when they need it."

- Greg Hooven
About MarketReach, Inc.

An independent creative production shop, MarketReach, Inc. (mreach.com), produces marketing materials and experiences for technology companies worldwide, including such leaders as Amazon, Hewlett Packard Enterprise, Unisys, VMware, Cisco, and Dell Technologies. With over 25 years of experience, MarketReach enables tech marketers to extend their production capacity with award-winning creative excellence. It is headquartered in Nashua, NH, with additional staff in the southwestern U.S.
Contact:
Craig Clarke