Nashua, NH (April 15, 2019)—MarketReach, Inc., a provider of creative marketing services for leading technology companies, recently won three AVA Digital Awards. The awards recognize excellence in digital communication.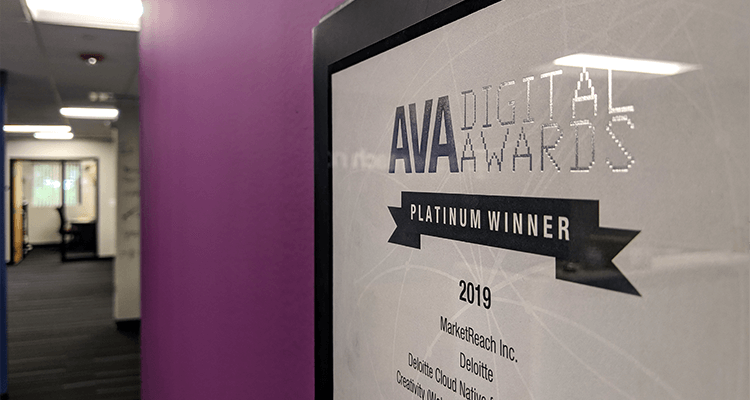 Platinum and gold awards won for videos and website redesign.
The Nashua firm won a platinum award for an animated video it created for Deloitte, the professional services multinational. A video MarketReach produced for UiPath, the robotic process automation leader, won gold. And a new website MarketReach created for the Chicago-based IT solutions provider ACP also won gold.
The AVA Digital Awards are an international competition judged by the Association of Marketing and Communication Professionals (AMCP). The AMCP awards digital communication that "exceeds a high standard of excellence and … serves as a benchmark for the industry." MarketReach's three entries in the competition were among 2,500 projects AMCP considered for awards this year.
"We've spent the last several years focused on building our video and web-development capabilities, and we're honored those efforts have been recognized by the AMCP."

- Greg Hooven
About MarketReach, Inc.

An independent creative production shop, MarketReach, Inc. (mreach.com), produces marketing materials and experiences for technology companies worldwide, including such leaders as Amazon, Hewlett Packard Enterprise, Unisys, VMware, Cisco, and Dell Technologies. With over 25 years of experience, MarketReach enables tech marketers to extend their production capacity with award-winning creative excellence. It is headquartered in Nashua, NH, with additional staff in the southwestern U.S.
Contact:
Craig Clarke