Personal take
,
Marketing
What marketeers can learn from our trip to the NHL Winter Classic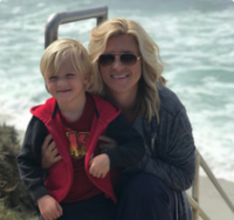 By Kelley Maher
April 28, 2023

So, it all started when my husband and I bought tickets for our oldest son, Beauwin, to the 2023 Winter Classic to see the Boston Bruins and Pittsburgh Penguins face off at Fenway Park. Beau is a senior, and we decided it would be one last big family trip before he goes off to college.
Beau's wish comes true
"He said, 'The one gift I want is I want to go back to Boston for the Classic.'" So, hidden in the gold foil of a candy bar on Christmas morning—hello, Willy Wonka—our son's dream was coming true.
We live in Arizona and planned to fly to Boston for the hockey game of a lifetime. After all, we're hockey people. The Winter Classic is our Disneyland. Truly.
Unfortunately, that was the same week that Southwest Airlines had a meltdown, and our flight at Phoenix Sky Harbor Airport was delayed. And delayed. And delayed.

Marketing lesson #1: Know when to switch to plan B
After several hours, subpar airport meals, and lots of hypothetical plans, we decided that flying was no longer an option and we needed to pivot if we were going to make it to Boston on time. We refused to miss the game, and we weren't going to let this ruin our trip. Understanding when to accept the collapse of our original option and making the executive decision to change course to preserve the desired outcome is how we not just salvaged this trip—but fetched victory from the jaws of defeat.
We eventually decided to rent a truck from Enterprise and drive the 2,600 miles to Boston. We went home, slept a few hours, packed what winter clothes we had left in Arizona (the rest were in limbo in luggage we couldn't retrieve), and embarked on our road trip adventure. If we really pushed ourselves, it would be a 70-hour journey, but we were determined to make it to Fenway Park to see the Boston Bruins and Pittsburgh Penguins face off live. The journey was long, and we had our four children with us, but we were all excited.
"I hate to say it, but I can't rely on Southwest to get us home."

The Maher family is driving from Arizona to Boston after their flight was cancelled trying to go to the NHL Winter Classic. pic.twitter.com/EFs6oCdtwt

— CNN This Morning (@CNNThisMorning) December 28, 2022
Marketing lesson #2: Mind the social media buzz
In an effort to thank Enterprise for saving the day, Tim had tweeted about our travel debacle, and while we were on the road, we started getting requests for interviews. They seemed to think we were newsworthy. What started as a simple communication through a basic social media channel blew up into something much larger. Keeping their eyes and ears on this space would prove to be a major factor in how the brands involved were able to create earned-media impact. WCVB Boston spoke with us as we traveled through New Mexico, and we were carried live on CNN from our Columbus, OH, hotel room. Even the London Daily Mail covered our trip.
It was, in a word, bananas.
Ray Bourque and the NHL
Our perseverance and determination (and obvious love for the game) also caught the attention of the NHL, and as soon as we arrived in Boston, we were treated like royalty.
The legendary Ray Bourque, longtime Bruins captain and Hockey Hall of Famer, treated us to dinner at his restaurant, Tresca, in the North End. Meeting the legend and shaking his "bear paw" of a hand were certainly the highlights of Beau's trip.
But the surprises didn't end there. The NHL also went above and beyond to make our experience unforgettable. We were shocked when we were presented with the Stanley Cup before the big game on Monday. Tim said, "I did not see that one coming."
After driving from Phoenix to Boston for the Winter Classic, the Maher family got a special surprise from @NHLBruins alum Ray Bourque — a signed jersey! And Bourque treated them to dinner at Tresca in North End. A flight cancellation turned trip of a lifetime! #wcvb pic.twitter.com/oogt9qwZXQ

— Brianna Borghi (@BriannaBorghi) January 2, 2023
First-class seats
Originally, we had two tickets in Bleacher Section 37, but they got us three tickets and upgraded our seats to the Green Monster. From high atop the famous left-field wall, our three hockey boys got to see the Bruins defeat the Penguins in an exciting 2–1 finish!
Although the journey was long and tiring, it was worth it to see our son's dream come true. The memories we made will last a lifetime, for our entire family, and we are grateful to the NHL and all the companies that helped.
Marketing lesson #3: Creating loyalty is inexpensive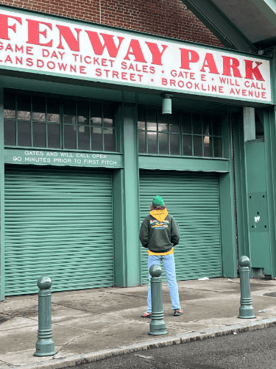 This just goes to show the effect that an organization can have on its customers and fans when they make the decision to get personal. Taking the risk on a "blind outreach," as they call it.
As a marketer myself, I can see things from the other side, and what the NHL did, while not a huge lift from their perspective, had a tremendous impact on our experience—and are examples of ways businesses can show that their customers aren't just a number at their massive events or a tick mark on their sales sheets.
Sports have the power to bring people together and unite them under a common passion. And while our story is an extreme example, it pays to go above and beyond to create unforgettable experiences for customers.
The NHL and Enterprise showed what great customer service is all about. We showed some loyalty (Go B's!) and quick-on-our-feet planning—and some organizations would just take that for granted. But folks at the NHL, Enterprise, Ray Bourque, and the Bruins created the coolest experience for us, making us feel even more bonded to a sport we love.
When it's up to 10 times more expensive to gain a new customer than to retain an existing one, the generous gestures of Bourque, the NHL, and Enterprise show how to appreciate loyal customers. They turned a potentially disastrous situation into a memorable and positive one.
The end result? We'll try again and again to prioritize and attend their events. Pretty cool equation.
From a personal angle, it's a reminder to not let the failure of others get in the way of pursuing a dream. You can make it happen, and help will come when you need it. (And maybe you'll end up shaking hands with someone you grew up idolizing.)