Personal take
,
Advertising
Big game ad trends: Who nailed it and who fumbled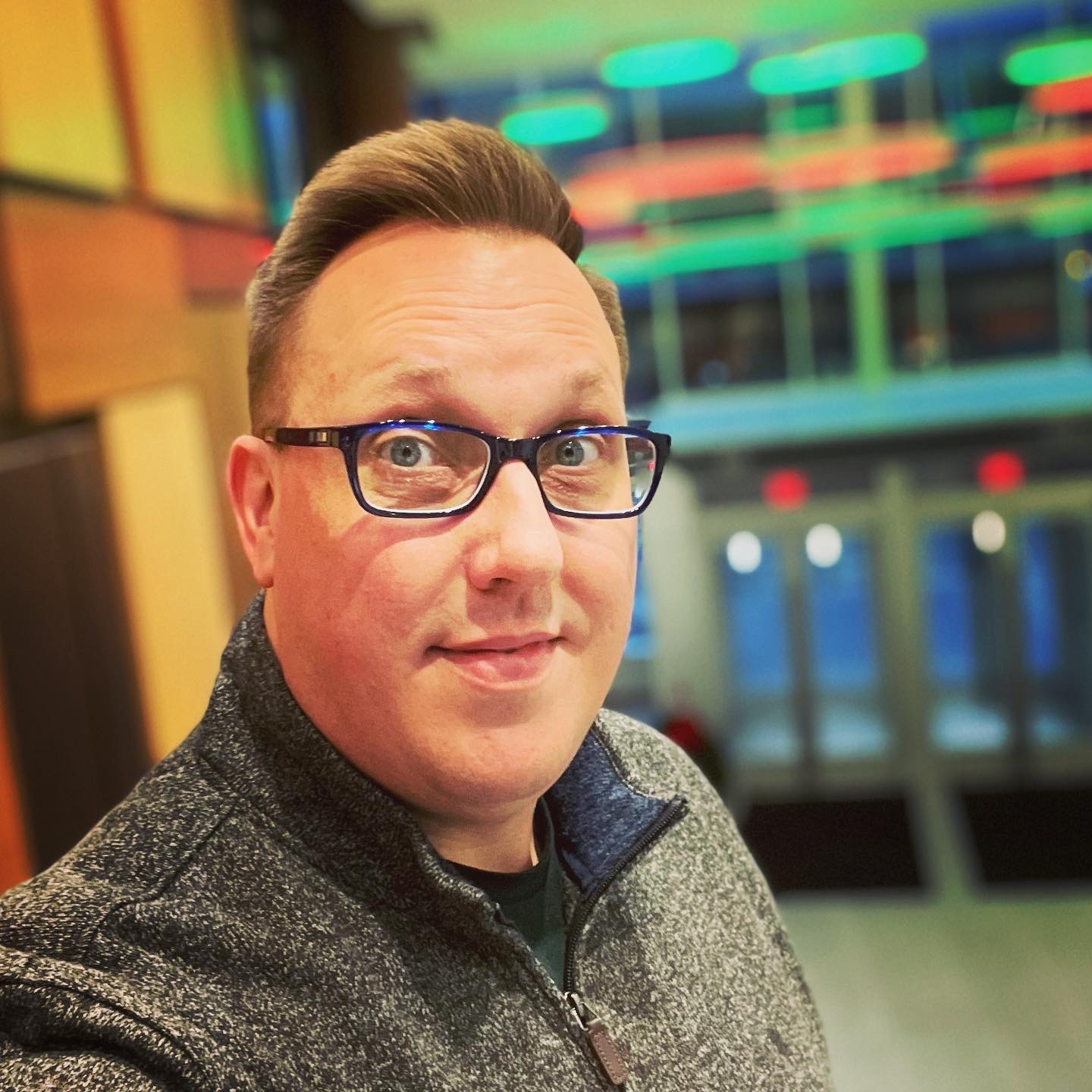 By Lucas Leverett
March 3, 2023

When it comes to the most expensive live television ads of the year, one Sunday in February serves as a showcase for the best and worst ways in which brands—mostly consumer-oriented, but with a few B2B highlights—spend millions on a chance to win the attention of viewers.
Super Bowl LVII provided 113 million of those viewers to advertisers willing to shell out $7 million per 30-second spot.
Rather than add to the already-crowded field of "top bowl ads" rankings, this year seemed like a good opportunity to branch out. The lineup of ads in this year's game had a few key trends in common, and among those were some clear winners and... not winners.
Of course, ad opinions and M&M mascot hot-takes share one thing in common: everybody's got one, it seems. So, take this with a grain of Dorito dust.
The year of the partnership and crossover
One of the biggest noticeable new bandwagons for advertisers this year was the team-up. Splitting time, content, theme, and cost was a popular approach for various pitches across the board. Netflix, beer brands, automobiles, film and TV franchises—all of these chose to mix and mingle for better or worse.
Touchdown: Miller Lite, Coors Light, and Blue Moon—"The High Stakes Beer Ad"
This one was not as much of a crossover if you know enough about the beers involved and their corporate ownership. But the average consumer is not typically aware of the Molson Coors family tree, so this entertaining battle between labels with similar low-end markets (Miller Lite and Coors Light) turning into a mid-market Blue Moon ad in the last seconds executed well without going too far off the beaten path.
Fumble: Paramount and Porsche—"Transformers: Rise of the Beasts promo"
Did you catch the implication in the opening titles that this spot was going to be about cars? No? You're not alone. Perhaps it was a failure of copywriting. Did you find yourself confused about the fixation on only one character of the upcoming film being featured for such an expensive effort? Same here.
In the end, the only true nod to the Porsche brand comes in a tiny and momentary flip of the shield in the middle of the logo, causing more mindshare to be spent contemplating the "Huh?" than on a memorable marriage of the sports car maker to their featured vehicle in the upcoming movie.
Trailer park
Ever since Independence Day blew open the walls of the game with their blockbuster trailer release, films have been chasing the big audience exposure numbers with big-game coming-attraction reels. This year, the smart money was on giving a sample to the audience with a much deeper payoff to be found in other media—capitalizing on the dual-screen viewership now common in consumer behavior.
Touchdown: Warner Bros. Pictures—"The Flash Big Game TV spot"
While there was an entirely respectable attempt made by Marvel Studios for Guardians of the Galaxy Vol. 3, the trophy goes to DC Films' Michael Keaton–enhanced spot for The Flash. Not only does this piece tease a shakeup likely to sort out the arguable mess their film continuity has been sorting through, but it landed an across-the-board appeal to fans of all ages. The icing on the cake? They managed to include a pitch for their printed and digital media as a stinger.
Fumble: Transformers and Porsche... again
This one is landing again in the "fumble" slot when it comes to film trailers due to its status as both a poor preview for the movie and a poor car ad. Either of these modes might have been successfully achieved had this ad not ended up a hodgepodge like a partially converted toy.
Is B2B here to stay?
You were probably wondering when this blog on a B2B creative services agency website was going to get around to the B2B part. As is now a widely understood reality, B2B cross-pollinates frequently with B2C, and a critical understanding of advertising and consumer behavior applies to all spaces in brandcraft. More and more advertising during the very consumer-oriented championship game is being aimed at business consumers, because of the universal appeal of the large audience at hand.
Touchdown: Workday—"Rock Star"
Not only did this spot take an overused buzz term that most of us are tired of and run with it via a thoroughly realized, celebrity-loaded theme, they also included the zeitgeist of mixed opinions within the ad. When one of the goals of these ads is to create chatter around the water cooler, it can't hurt to be the instigator of an office debate about phrases like "rock star."
Fumble: Squarespace
Some concepts are just a little too "far out." That's the case with the bizarre, but creative, use of Adam Driver's superstar status to create an epic and novel treatment around an idea that's really not new at all. "A website that builds websites" is hardly fresh or unique. With that reality in mind, this one falls short. Interestingly, the Backstage with Adam Driver spot featured on the brand's YouTube channel and other social media would have been a more compelling "driver" for interest in the full-production ad.
EV everywhere
Touchdown: Ram Trucks—"Premature Electrification"
One of the primary tenets of sales and marketing is to overcome consumer objections. In that respect, the Ram Trucks ad was a masterclass. One of the biggest hang-ups for male consumers concerning electric vehicles is based on the performance of the category and how much being a soft, sensitive EV driver might chip away at their manhood.
Borrowing the themes of another product category concerned with performance and manhood, this spot brilliantly uses male insecurity against itself, while also giving the ladies in the room a chance to laugh out loud and maybe throw a small elbow-jab here and there.
Fumble: Kia—"Binky Dad"
Here we were, about to set a new record in Super Bowl ad history, by having no advertising spots dedicated to fossil fuel vehicles. We were almost there, but Kia somehow failed to "read the room." Instead of utilizing this otherwise wonderfully creative concept on, say, an ad for their Niro EV, the automaker leaned in on the large luxury SUV market during a broadcast where almost no discernible competitor pursued the same market.
Must love dogs
Any year of Super Bowl ads without dogs might as well be devoid of the National Anthem itself. As American consumers, the general rule is that we love dogs. Dogs plus capitalism? Sold! We can't get enough.
Brands have leveraged our affinity for "puppers" over the years for products related and not related to canine concerns, but no matter what, when the family dog comes on screen, we all sit up and listen.
Touchdown: The Farmer's Dog—"Forever"
While Amazon made a good attempt at yanking the heart strings, this year's clear woof-woof-winner was The Farmer's Dog. Via a short film storytelling approach, they chronicle a lifetime shared by the protagonist with her loyal best friend through a series of major life stages, driving home the product benefit while going straight for our collective "feels." This expertly-executed work (and the video editing masterclass demonstrated by its extended cut) has dominated the annual USA Today Ad Meter, making it the hands-down national favorite for Super Bowl LVII.

Fumble: Anheuser-Busch
Speaking of dogs, viewers in some markets were offered this Budweiser spot. While the stable messaging and branding is commendable, this was a bad year for Bud not to offer us anything with lovable animals. No horses and no sweet, compelling dog story? Or nothing with both? A decent ad for the brew, but we all miss the pups. This one is the loser by what they missed more than what they chose to include.
Honorable mention: Great use of an "Easter Egg"
"Bud Light Hold" ad phone number
This ad, starring personable pretty-people power-couple Keleigh Sperry and Miles Teller might have otherwise been regarded as one of the best ads of the night if Anheuser-Busch had not debuted it well before the game, in pre-roll slots on streaming video platforms.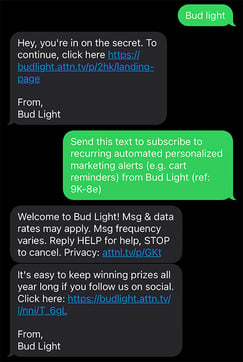 In every textbook sense, this ad has nearly every box checked on the list of great TV ad formula ingredients: a relatable scenario, charismatic celebrity talent, a clear message concerning the product's solution to the pain points of the protagonists, humor, prominent product focus, and memorable ad copy.
Bonus points for the implementation of incredibly familiar hold music for the real-life predicament Keleigh is experiencing. You're not crazy if you think you've heard it before, as the tune is native to Cisco telephone systems. Its name is "Opus No. 1" by Tim Carleton and Derrick Deel.
Sharp viewers (or those quick with the pause button) might have thought to call the number shown clearly at the top of the ad. Doing so leads to a recorded message directing the caller to text the same number, which starts a process to sign up for SMS marketing. A clever and effective ploy to recruit more audience to the Bud Light text-marketing channel.
A valuable annual exercise
Whether your evaluation of the bowl ads is a personal hobby or an organized office topic, the consideration of what is and is not a successful spot can be a great chance to kick off the year with critical thinking and inspiration. Whether as a workout for your branding chops or just a way to start conversations around promotional activity for your own products and services, these works of commercial art serve as fascinating time-capsules.